Imagine receiving a package filled with exciting products for free. It's not a dream; it's the reality from Daily Goodie Box with their FREE Goodie Box.
In this post, we're about to embark on a journey that reveals the joy of getting your hands on a FREE Goodie Box. Topgiftfornewday'll guide you through the process of signing up, the benefits of being a part of this incredible program, and what kind of treasures you can find inside. Let's dive in!
What is Daily Goodie Box?
Daily Goodie Box is an example of a free program. It's your ticket to discovering new and exciting products without spending a dime.
The Daily Goodie Box sends boxes filled with snacks and household products in exchange for honest item reviews. Brands donate products to Daily Goodie Box and in return, they reach new consumers and receive reviews and opinions on their new or newly launched products.
The allure of receiving a Goodie Box is multifaceted. Not only do you get to try products before you buy them, but you also save money while providing valuable feedback to brands looking to improve.
The review process takes approximately 5 minutes per item and is done through the Daily Goodie Box website. You rate the items, answer a few quick questions, and enter a brief rating. Reviewing entries in this manner is voluntary! They'll send some email reminders, but ultimately nothing will happen if you don't take the test: they won't ask you to pay, send an invoice, or anything else.
However, skipping out on reviewing items will disqualify you from future Gift Box, and taking a few minutes to share your thoughts is a great way to thank brands for sending their products.
Signing up is easy and the product is truly free: no shipping fees, no credit card required, no weird upsells.
How to get your FREE Goodie Box?
1. How to sign up Daily Goodie Box
✅ Visit the their website.
✅ Create an account with your details.
✅ Complete your profile, so they can customize your Goodie Box based on your preferences.
Unfortunately, only people residing in the United States can subscribe to the Daily Goodie Box. So, if you live elsewhere, this site is not for you.
If you live in the United States, you can register. Signing up is completely free and you don't need to provide your credit card information or anything like that.
You can cancel your account at any time by contacting them.
2. Follow Daily Goodie Box on their social media accounts
On the home page, they say you just signed up and they will send a bunch of goodies to your home.
The only way to get free items from them is to follow the company's social media accounts.
Did You Know?
Want to increase your chance of getting a Free Gift Box daily? Follow their socials.
Visit FACEBOOK page
Visit TWITTER page
Visit INSTAGRAM page
Indeed, they reviews comments on its Facebook page and then randomly selects winners of a free box.
If you are selected, you will receive a response to your comment saying something like: "Congratulations! You have a Goodie Box."
So, to receive a box from the company, you need to follow the company's social media accounts and interact with the company there. Leaving a review seems to be the only way to get free content. You also often see comment threads with multiple winners.
3. Receive Gift Box
If you are selected to receive a gift box, the company will send it to you by mail. Not only is the product free in the box, but shipping is also free. No credit card or any form of payment required.
What can you get? So, what types of products do you actually get from Daily Goodie Box?
Well, you'll be happy to know that you don't just get samples in the mail. Usually, you get full sized products which is pretty awesome. I love that you get a mix of sample and full-size products!
What are Products inside a Daily Goodie Box?
What can you expect to find in your Goodie Box? The answer is diversity. These boxes are typically filled with a wide array of products, including snacks, skincare items, household essentials, and more. It's a delightful mix of full-sized products and samples that can introduce you to new favorites.
Here are some examples of the products included in previous boxes from Daily Goodie Box:
Blake's Seed Based – Raspberry Snack Bar
Just The Cheese – Aged Cheddar Bars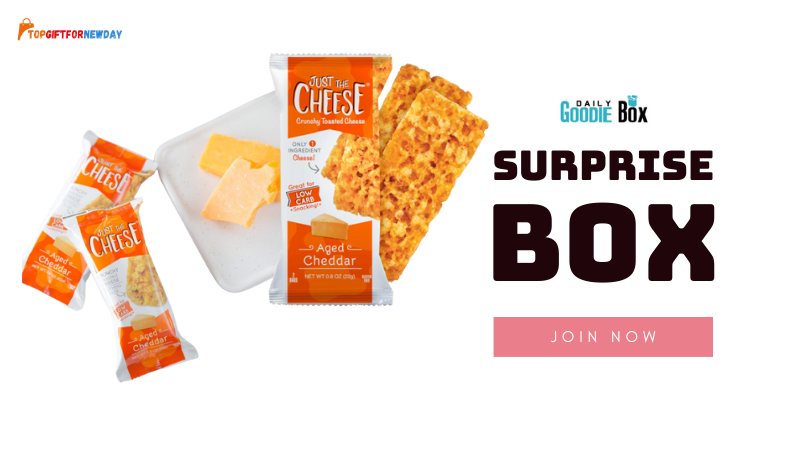 Flexitol – Hand Balm
Chiki Buttah – Organic Sample Pack
Bee & You – Vitamin C + Zink Propolis Shots
Wait for your Goodie Box to arrive at your doorstep. The best part? It's absolutely free, and you don't need to provide credit card information.
How Often Are Goodie Boxes Sent Out?
Goodie Box are sent out regularly, and Daily Goodie Box strives to provide boxes to as many members as possible. While the frequency may vary, it's all the more reason to stay engaged and excited.
Is Daily Goodie Box Legit?
Yes, Daily Goodie Box is a legitimate platform that offers free sample boxes filled with various products. It's designed to introduce consumers to new and exciting products at no cost. Brands donate products in Daily Goodie Box, and in return, consumers are asked to provide honest feedback on these items.
The review process is voluntary, and there are no hidden costs or obligations. While Daily Goodie Box encourages users to share their opinions on the products they receive, they won't ask for payment or send bills. Neglecting to review the items may affect your eligibility for future Goodie Boxes, but it won't result in any financial consequences.
Daily Goodie Box has been known to send out Goodie Box regularly with samples, and many users have shared their positive experiences with the platform. It's a legitimate and fun way to discover new products and provide valuable feedback to brands.
Providing Feedback and Reviews
Your role in the Goodie Box experience isn't just about receiving Free Products. It's also about offering your valuable feedback. Brands appreciate your opinions, and your reviews help them improve their products. It's a win-win situation for everyone involved.
Sharing Your Experience
The Daily Goodie Box experience is too good not to share. Encourage your friends to sign up and create a buzz on social media. Sharing your finds and experiences is a great way to connect with the Daily Goodie Box community.
In conclusion, Daily Goodie Box is all about the thrill of receiving fantastic products for free, and you play a vital role in the process by providing your valuable feedback. So, what are you waiting for? Sign up today and start experiencing the joy of your own FREE products.
Visit the Daily Goodie Box website and begin your journey of exciting discoveries. Sign up for your FREE Goodie Box and embrace the world of free product samples today!