Here's an exploration of how vouchers are making a significant difference in the lives of low-income families Economic inequality remains a persistent challenge in today's society, with a significant number of families grappling with the burden of securing essential goods and services. Among the numerous strategies aimed at addressing this issue, the provision of vouchers has emerged as a particularly effective solution.
Vouchers as a Financial Lifeline
Vouchers are a tangible means of financial support. They reduce the monetary burden on families that are struggling to meet ends. With vouchers in hand, families can afford basic necessities like food, clothing, and educational resources, without having to compromise on other needs. This can lead to improved living conditions, better nutrition, enhanced educational opportunities, and overall higher quality of life.
Vouchers can also alleviate the stress associated with financial strain, providing some relief in difficult times. In this way, they don't just facilitate access to essential goods and services; they also contribute to emotional well-being by offering a sense of financial security and stability. Vouchers, therefore, act as a critical safety net, offering immediate financial assistance while also paving the way for long-term stability and self-sufficiency.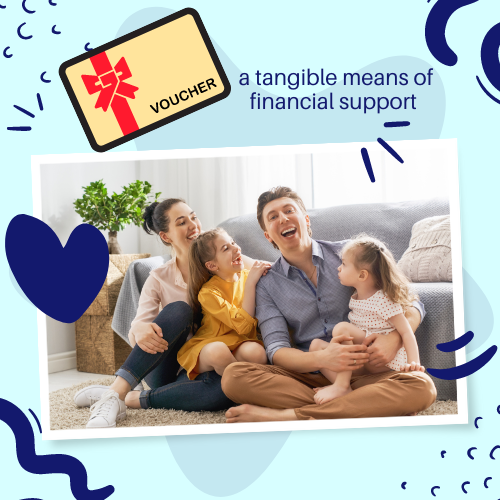 Catering to Specific Needs
Moreover, vouchers often cater to specific services such as healthcare, education, or groceries. For instance, food vouchers enable families to access nutritious meals, thus supporting their health and well-being. Educational vouchers provide opportunities for children to attend quality schools and receive a strong foundational education, which might otherwise be unattainable.
Encouraging Beneficial Activities
Vouchers lower the cost barriers associated with various essential services, thereby encouraging families to participate in activities that might otherwise be considered unaffordable. For example, healthcare vouchers can inspire regular doctor's visits and preventative care, ensuring that minor health concerns don't escalate into serious, costly medical conditions. Similarly, vouchers for sports and recreational programs can promote physical activity and mental wellness among children, fostering a healthy lifestyle from a young age.
Education vouchers, on the other hand, stimulate intellectual growth and social development in children by providing them access to quality education. They level the playing field, making it possible for children from all socio-economic backgrounds to dream big and pursue their ambitions.
Moreover, vouchers for home improvement supplies or services can encourage families to maintain a safe, comfortable living environment. They can help cover the costs of necessary repairs or upgrades, improving living conditions and contributing to a sense of pride and dignity.
Impacting the Bigger Picture
Beyond their immediate benefits, vouchers have long-term positive impacts. When day-to-day financial stress is reduced, families can focus more on future planning, educational advancements, and saving for emergencies. In a broader sense, vouchers contribute to community stability, economic mobility, and a reduction in social inequality.
Creating A More Equal Society
Vouchers serve as a beacon of hope for many low-income families. Their value goes beyond mere financial aid; they are tools of empowerment, opening up opportunities, and ensuring access to essential services. They promote a more balanced and equitable society where the welfare of all individuals is considered and protected.
As a society, we should advocate for the expansion of voucher programs. Every family deserves a fair shot at a comfortable and secure life, and vouchers can make a significant difference in this regard. By embracing and promoting these programs, we can contribute to a more inclusive, supportive, and equal community.
Conclusion
Vouchers – they're not just pieces of paper or digital codes. They're tickets to opportunity, security, and a brighter future for our fellow citizens in need. Let's continue to advocate for comprehensive voucher programs as a step towards creating a more equitable society. Every small action counts, and together, we can make a significant difference.