When we think of Oreos, the first image that typically comes to mind is a round, dark chocolate cookie sandwiching a creamy white filling – a simple yet satisfying treat loved by millions around the globe. However, what many may not know is that this iconic cookie has quite a diverse portfolio, with Oreos flavors that span the globe. Each Oreos flavor offers a unique perspective on local tastes and ingredients, making for a fascinating, and tasty, cultural adventure. Let's embark on this journey and explore some of the most unique Oreo flavors from around the world.
1. Green Tea Oreos – Japan
A product of innovative Japanese snack culture, Green Tea Oreos feature the iconic dark chocolate cookie on the outside, but inside, you'll find a delightful surprise. The regular sweet cream is replaced with a matcha green tea flavored filling. The matcha lends an earthy depth and a slight bitterness that creates an interesting contrast with the sweet, chocolatey cookie.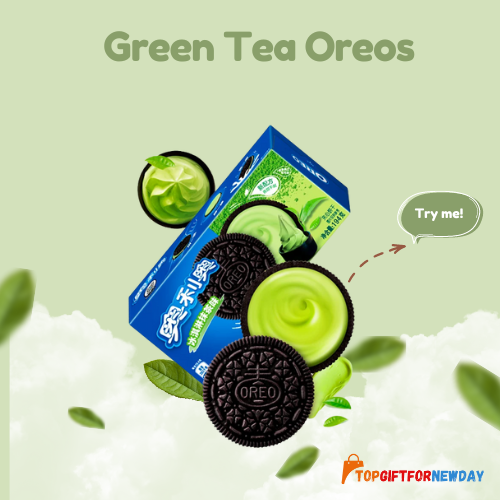 For those familiar with the flavor of matcha, these Oreos perfectly encapsulate the essence of the popular green tea. For the uninitiated, this might just be your gateway into a whole new world of flavor.
But it's not just about the flavor, there's a cultural adventure wrapped in this snack too. Each bite is a nod to the tea ceremony traditions of Japan, making your snack time a mini cultural escapade.
2. Mango Orange Oreos – China
Another Asian variant that deserves attention is the Mango Orange Oreos from China. This Oreos replaces the traditional cream filling with a fruity and tangy mango-orange cream that's as refreshing as it is unexpected.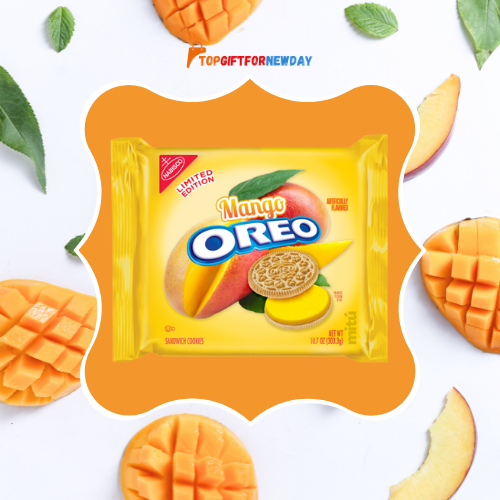 3. Dulce de Leche Oreos – Argentina
Heading to South America, Dulce de Leche Oreos are a nod to Argentina's favorite dessert. Dulce de Leche, a caramel-like sauce made by simmering milk and sugar, replaces the standard cream filling, giving these Oreos a rich and indulgent flavor.
4. Blueberry Ice Cream Oreos – Indonesia
Blueberry Oreos Ice Cream is a popular choice in Indonesia. The filling combines the sweetness of berries with a hint of creaminess and is reminiscent of a refreshing scoop of ice cream between classic biscuits.
5. Coconut Delight Oreos – Thailand
Thailand's Coconut Delight Oreos are a tropical treat. Infused with the sweet and nutty flavor of coconut, the cream filling takes you on a sensory journey to Thailand's stunning beaches with every bite.
6. Strawberry Cheesecake Oreos – UK
With each bite, you're greeted by the familiar crunch of the chocolatey cookie, which perfectly balances the delicate sweetness of the strawberry cheesecake-flavored cream filling. The creamy filling captures the essence of tangy cheesecake, while the subtle hint of strawberries adds a fruity twist that makes it impossible to resist.
These Oreos cookie not only bring a burst of flavor to your taste buds but also pay homage to the UK's love for all things sweet and decadent. After all, who can resist a slice of creamy strawberry cheesecake? Now you can enjoy that same indulgence in a convenient and portable Oreos form.
7. Peanut Butter and Chocolate Oreos – USA
Last but not least, we head back to Oreos's home turf in the USA, where the Peanut Butter and Chocolate Oreos reign supreme. Taking inspiration from the classic American pairing of peanut butter and chocolate, this flavor variant hits all the right notes of salty, sweet, creamy, and crunchy.
Exploring the different Oreos flavors around the world is not just about tasting new variations of a beloved cookie, but it's also about discovering how diverse cultures influence our snack foods. So, whether you're jetting off to a foreign destination or merely browsing the international aisle of your local supermarket, be sure to keep an eye out for these unique Oreos flavors and treat yourself to a delightful tasting adventure! Let's join with Topgiftfornewday giveaways!